If you're looking to reduce employee turnover — a significant issue in the jan/san industry — focus on improving your company culture with these tips.
Try as you might, it's impossible to retain the exact same workforce for a long period of time — the janitorial industry is well aware of this, of course. Because you may have to replace one or two employees every now and then, though, all it means is company culture becomes that much more important.
I'd like to take the importance of company culture one step further. In an industry where not everyone will instantly recognize a company that's a cut above the competition, you can and should use your company culture as a competitive advantage. I've already discussed how to use company culture to attract young talent, so I want to talk here about how it can be competitive advantage in obtaining new clients — as well as retaining existing customers.
First, though, I'd like to draw from a great example of how culture can affect the bottom line in the short- and long-term: TELUS, a global telecom business. Here is an excerpt from Forbes, explaining how TELUS has grown because of the way they changed their culture:
"Through an evolution in its leadership, learning and collaboration strategies — amongst other factors — TELUS has become a more productive, collaborative and social entity. Employee engagement is now 80 percent — up from 53 percent five years ago — and the company stock, which recently split, is soaring."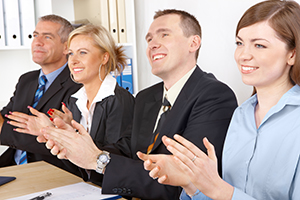 As you can see, a huge increase in employee engagement (which, by the way, is a direct result of a positive company culture) correlated to a similarly huge increase in stock value for the entirety of that same five-year period. These stock increases are the consequence of TELUS' prospective and current clients being happier with the relationships they have with the telecom giant.
I understand that most companies in the janitorial industry aren't set up to be billion-dollar corporations, but I think the principles (and results) are very similar. Create an employee-friendly culture where employees feel free and empowered to share their ideas with management, and you'll become a company that is consistently evolving and innovating better ways to do business and meet the needs of your clients.
One way we've used our company culture to better meet the needs of our customers is by targeting the right type of employee. Many of our employees are positive, laid-back people under the age of 30, which is the result of recruiting and networking on local college campuses. While having a young workforce can seem like a negative for some people, therein lies our advantage. Because we target younger employees, those who do apply here are tech-savvy and outgoing. Because of these two things, we are better prepared to keep our clients happy with CleanTelligent.
Not only do we try to gain a competitive advantage by how we hire, we also put a major emphasis on the value of empowering each employee to be inventive in discovering better ways to satisfy prospective and current customers. Because we think this is so important, our internal mantra is "empowering people to succeed." I am fully confident that any company that values employee engagement will choose to focus on empowerment as a means of producing innovation.
I don't mean to brag there, but I do want to give a real-life example of how a company in the janitorial industry can use their company culture to gain a competitive advantage and find the edge that'll lead to increased efficiency and revenue. Empower your workforce, and they'll use those opportunities to make your business more productive and profitable.