A hallmark of the spring season is the requisite cleaning of homes and businesses. Capitalize on the new green cleaning trend by using our tips.
Sometimes it may not feel this way outside, but now that we're in April, the spring season is upon us. I have had multiple mornings — even within the past week — where I wake up to find snow on the ground, then have to take off my coat midday because it's 65 degrees outside. It may not always be warm and sunny outside, but if you're waiting for that then you'll have to sit tight for another month or so.
Now that it's spring, there's undoubtedly one phrase that comes to mind for many of us: spring cleaning. I'm not here to give you tips on how to clean your facility, office or home — stay tuned, though, because that is definitely something I will cover soon — but I do want to share a few tips on what "green cleaning" is, and easy ways to do it on a regular basis.
Green cleaning, at least according to ISSA, is broken down into three main concepts and ideas: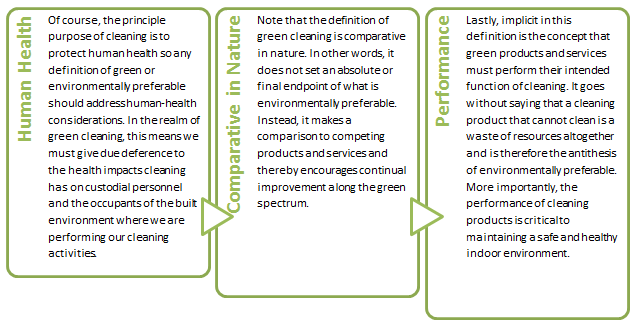 With these main concepts in mind, here are some green cleaning ideas and best practices (courtesy of Marc Lallanilla) that can help you stay green as you go about your spring cleaning:
Do the Bath Math: In an enclosed area with not-so-great ventilation and a lot of humidity — like your bathroom — green cleaners make a lot of sense. Use baking soda and vinegar as a toilet scrub, and borax gets rave reviews as a tub and tile scrubber.
Green Cleaning and Fresh Air: Don't kill yourself — or your kids — to get a sweet smelling house. The Natural Resources Defense Council tested 14 different household air fresheners and found that 12 contained the hormone-disrupting chemicals known as phthalates. Keeping your house generally clean should eliminate any odors — or try natural odor-eaters like vinegar and baking soda. Best air freshener of all — crack a window!
As clearly shown above, you'll notice that most of these tips involve using "secret family tricks" that have been found to work for a wide variety of people. You may already use some of these, or you may even have other little tricks that get the same results, but I hope you'll look to implement some of these green cleaning tips as you use this spring season to clean your home and office in an environmentally-safe manner.
Please do your part to make this world a cleaner and more environmentally safe place for everyone by sharing your own green cleaning tricks and tips below in the comments section.