Doing a bit of spring cleaning? Looking to make it easier and faster? Check out these tips to help spruce up your home or office.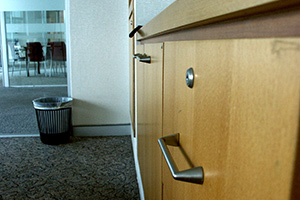 Our "green cleaning" post from a couple weeks ago did mention a few environmentally sound ways to clean your home and office. Now that the bulk of us are finally enjoying spring weather on a regular basis, I think it relevant and important to share a few more tips that can make cleaning your workspace and home easier and more efficient.
So, without any further ado, here is a collection of simple and memorable tips that may come in handy for cleaners (professional and non-professional alike):
Caring for Your Tiles
This tip comes courtesy of HouseBeautiful.com: "Marty Hoffman of Hoffman Brothers Floors suggests cleaning bathroom and kitchen tiles with a cleaner that has 'neutral pH' on the label. You can also mix baking soda and water for a homemade cleaner: Pour 1/2 cup baking soda into 2 gallons water and mix very well. Then apply the liquid with a string mop or sponge mop."
Using a "neutral pH" cleaner is a great option to use instead of a "non-neutral pH" cleaner because, frankly, it's safer and more user-friendly. It's not acidic, and is therefore not nearly as dangerous or hazardous in case of skin contact. This can really come in handy if you choose to try to get your spring cleaning done in one fell swoop, instead of spreading it out over a long period of time.
Sliding Door Tracks
This hidden gem — I know it's something that I definitely don't think of when putting together a to-do list for spring cleaning — comes from Better Homes and Gardens. "Sliding glass door tracks probably aren't the first spots you'd think to clean, but you'll appreciate having done it before the outdoor entertaining season gets into full swing. [We suggest] scrubbing the tracks with an old, dry toothbrush to loosen debris, then using your vacuum hose to remove it. Finish with a wet sponge."
I'm sure there are countless other tricks to thoroughly cleaning your home and office in a quick and efficient manner, but hopefully this will give you a good head start. Even if you don't always enjoy taking the time to go through your entire home or office and clean it step by step, room by room, it can do wonders for your health and mood.