Start looking for ways your custodial management team can strengthen existing customer and employee relationships by simply expressing gratitude.
How often do you express sincere gratitude to those around you? How often do you say, "thank you," on a daily basis? Have you ever wondered what would happen if you did these things even more than you are doing now?
Brian Doyle, a student at The George Washington University, described a yearlong experiment in his 2013 TED Talk, "365 Days of Thank You," that strengthened his relationships and changed his life. Every day for a year, he said, he took time to thank someone specific, including his mother, father, schoolteachers and friends.
As he completed this challenge, he noticed that instead of waking up dreading each day, he started waking up wondering who we would be able to thank that day.
Truthfully, expressing gratitude to someone is quick and easy, once you have established the habit. After all, how long does it really take to recognize what someone else has done, thank them and then go about your day?
Let's look at the impact gratitude can make on your janitorial business.
Thanking People for Their Business
Oprah Winfrey once said, "Be thankful for what you have; you'll end up having more. If you concentrate on what you don't have, you will never, ever have enough." Applying this directly to your custodial management team, you will find that if you are thankful for all of the clients and employees you already have, you will get more. However, if you focus on how few clients or employees you have, you will never have enough.
What happens when you thank someone for their role in your business? According to Sara Algoe, an associate professor of social psychology at the University of North Carolina at Chapel Hill, when one person expresses gratitude, it benefits both parties because the relationship is strengthened. When people feel valued, they invest more into your relationship.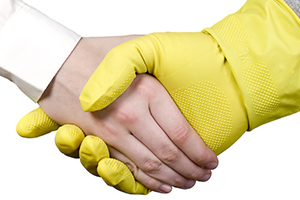 When you thank a customer or employee for their contributions to your business, you change your company from a business-to-business (B2B) venture to a people-to-people (P2P) one. And by switching to a P2P business model, your relationships with your customers and employees will change: Their wins will become your wins.
As your successes become intertwined, you might see an increased number of referrals because people do business with those they trust.
Being Genuine
When you thank someone, whether verbally or in writing, it is important to be specific and avoid phrases like, "Thank you for your business." Take some time to think about what your relationship means to your company. If it is a customer, ask yourself:
How does their business bring you closer to the community?
What does their contract mean to your employees and their families?
Does your customer do anything that makes your team's job easier?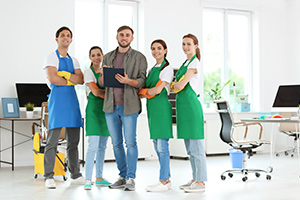 If it is an employee, ask yourself:
How has the team or individual gone the extra mile to serve your customers or community?
What best practices have your top performers recently thought of and implemented?
Has anyone exceeded expectations on their new assignment?
In your verbal or written thank you, include a few thoughts on future projects. After all, if you are taking the time to thank someone, odds are high that you want to work with them again. As specific gratitude becomes a habit, think of other times and ways you can express thanks. Before you know it, you will create a company culture of gratitude.
Getting Started
Business professor and author Adam Grant, who specializes in organizational psychology, said in a Harvard Business Review interview that only 15 percent of people surveyed say "thank you" at work. And 35 percent of respondents on the same survey said their managers never said "thank you." Don't take people for granted, he said.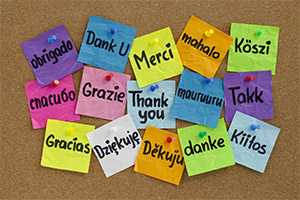 If expressing gratitude hasn't been a big part of your janitorial business, it only takes two little words to start. And while it is nice to come out and say, "thank you," your custodial management team can express their gratitude through other actions as well.
Think about it: Your customers could easily buy janitorial services from a competitor. And "at will employment" means your staff could easily work for someone else. As W. Clement Stone once said, "If you are really thankful, what do you do? You share."
In the spirit of Thanksgiving, the CleanTelligent Software team would like to wish you a fun and safe holiday. And thank you for visiting our website and blog. We hope you found this article helpful in strengthening your customer and employee relationships.
If your custodial management team has already successfully created a company culture of gratitude, we would love to hear how you did it and how it changed your business. Please email us at marketing@cleantelligent.com.
An effective way to retain your customers is to include a customized inspection summary from the last 3-6 months with a thank you letter.