Pour yourself a cup of hot chocolate and learn what Santa Claus can teach your janitorial management team about leadership this holiday season.
Santa Claus is more than a jolly ol' elf. At 1,748 years old, he has had a lot of life experience, making him a great leader and teacher. As Santa's own popularity has grown along with the world's population, you can imagine his management strategies have become more sophisticated every year.
Here are three janitorial management lessons from Santa:
Make Clear Goal and Team Assignments
In 2017, Santa promised to manufacture and deliver $24.3 billion in toys to good children around the world on Christmas Eve. Although this goal is too lofty for any one person, Santa succeeds because he matches the deliverable objectives to the right team. Here is a sneak peek at his division of labor: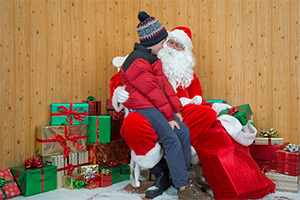 Army of Mall Santas: Interview every child to find out what they want for Christmas and send the findings to the North Pole.
Santa: Compiles and submits the final order and delivery list to his elves, after checking it twice.
Elves: Responsible for manufacturing, wrapping, labeling and packing each gift in Santa's sleigh.
Santa and the Elves: Plan the optimal delivery route.
Santa and the Reindeer: Delivers a gift (either toy or coal) to every child in the world in one 24-hour period.
What could you accomplish if your janitorial team ran as well as Santa's team? It may take some time to learn how to delegate like Santa, but it is possible. All it takes is a little forethought and some creativity.
Let Your Employees Shine
Remember Rudolph, the Red-Nosed Reindeer? On the surface, Rudolph's talents seemed too different to include him in the reindeer games. But when the winter storms and fog came, Santa recognized and trusted Rudolph's unique gift. With Rudolph in front of the reindeer team, Santa was able to safely deliver every present. After repeatedly saving Christmas, Rudolph has become an important holiday icon.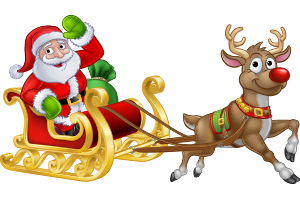 In janitorial management, there is a balance between leading from the front, like when Santa recognized Rudolph's talents. When you lead from the front, you keep your team focused on a set of goals and you explain how each person's job helps the company reach its overall goals. You explain to your cleaners that when they provide excellent customer service, they make it easier to retain current customers and sell more cleaning services.
But also remember that Santa trusted Rudolph to pull the sleigh. At first, leading from behind can be scary because it may feel like you are giving up control and credit. But is impossible to grow your commercial cleaning business if you insist on doing everything yourself. When you lead from behind, you give your team room to improve their skills and maybe even innovate company best practices. As your team improves, celebrate and thank them for their success, just as Santa did with Rudolph.
Making Data Driven Decisions
Let's face it: Some kids can't make up their minds about what they want until a few days before Christmas. To avoid producing large amounts of toys at the last minute, which would be impossible, Santa and the elves use historical data to predict what each child will ask for. Then, as a team, Santa and the elves set weekly, monthly, quarterly and yearly production goals. From these goals, they can also forecast their staffing needs and decide when they need to hire.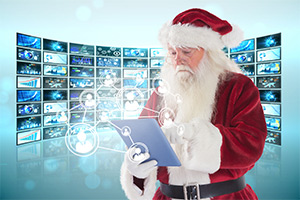 If your janitorial management team wants to avoid the mad, end-of-year sales dash, start tracking your current performance. Once you analyze your current performance, your team can build a strategy to increase sales during the rest of the year. Setting a regular sales cadence will help your sales and HR teams plan for business growth. When your company gets a new assignment or contract, you need a team ready to take on the work the day it starts.
Unfortunately, not every new hire knows how to clean commercially on their first day. Your company needs to document its work polices, including how long it takes to train an employee to clean individually and in a team.
Santa is successful each year because his team pulls together to make the impossible, possible. With a little planning and practice, your janitorial management team can conquer any challenge just like Santa's team.
If you are ready to improve task delegation, recognize your team's shining work, and make data-driven decisions, getting started with our janitorial software is just one click away.