Do you want to be more successful at work? What about in your personal life? Find out how with these tips from our managers.
"Rome wasn't built in a day." We've all heard this countless times over the years, and yet I think many of us still fail to apply it to our daily lives.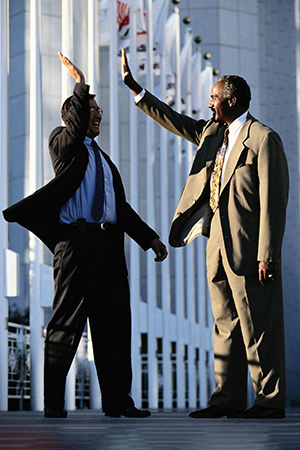 True, there are sometimes opportunities for each of us to grow by a leap or bound in some aspect of our personal or professional selves, but I find those to be few and far between.
I hearken back to my years as a soccer player. As anyone who has played the game before knows, it takes a great deal of physical fitness to run for that amount of time without tiring. Not only that, but you have to be able to do it without allowing your awareness, shot power or accuracy to dim either. The only way that I could find success for more than five minutes at a time was to take time before and after practice to run, run and run some more. For the entire summer before the season, for example, we ran a three-mile race 2–3 times per week. It was grueling at first, to say the least.
After a period of time, it became natural for my body to stay in good shape, endurance-wise, while running for that long. I could then focus on my skills with the ball, because I knew that I no longer had to worry about my physical fitness. It was my daily efforts — my daily practices — that helped me become a far better player than previously possible.
As stated in Small Business Trends, "business is a marathon, not a sprint." Getting your company to where you want it will take some time. It won't get there by itself, though, just because you wish it would. It can only happen when you create daily, regular habits that will yield the fruits of success.
Here are a few daily tools for daily success that can help you as you strive to better yourself and your business. These tips have been compiled by members of the management team here at CleanTelligent. All credit for the insightful advice below goes to Taylor Larkin, Director of Sales and Marketing; Jason Pyne, General Manager; and David Knell, Director of User Experience.
Keep Work at Work: One of the most important things that I do is to make sure that I have time where I don't worry about work. Any time that deadlines start coming due it is very tempting to spend extra hours at work to get everything done, but I have found when I do this I end up being less effective. So instead I do my best to stick to a regular work schedule and giving myself time to do something to relax so that when I am at work I can get a lot done and leave work behind when I am home.
Learn Something New: I think what I've found most beneficial, professionally and personally, is to simply try to learn something new each day. It can be great to learn things that relate specifically to my job or community responsibilities, but it's also a fun and motivating pattern to learn "random" things, too. By having a goal to learn either by specific research or casual observance, I'm training myself to be open to what's going on around me and hopefully be more engaged in the results I'm hoping to achieve.
Turn Knowledge into Action: The more I learn, the better I work. The better I work, the greater the impact that my work has on those who'll benefit from it (clients, teammates, etc.). So I'm constantly learning. Just about every day I read an article, listen to a book, watch a tutorial, participate in an online course, or — perhaps most importantly — observe an expert doing a skill, I want to learn to see what doing it well looks like.
The surest way to find success — whether it be as a manager, parent, employee or soccer player — is to create habits that will slowly, but surely, improve your life for the better. It may take a bit longer than you wanted, but you will get there. All it takes is perseverance, patience and optimism.  If you are willing to put in the time and effort, you will begin to see those fruits of success.