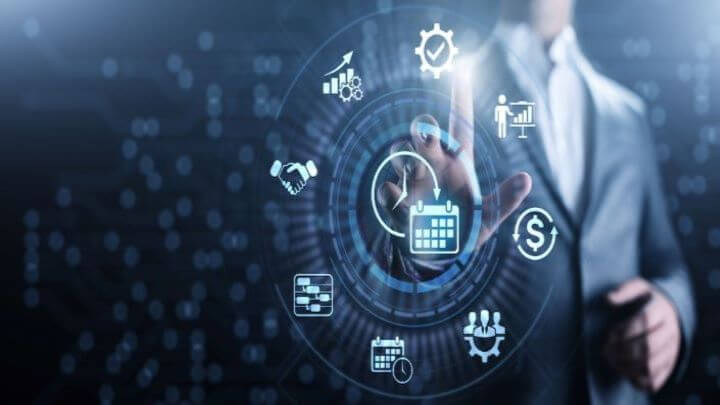 Standards have risen in the past few years, and the value of clean holds more weight with stakeholders, clients, and building patrons than ever before. Maybe 'clean enough' was adequate before, but that time is over. If 'done' is the standard you're holding your team to, you are falling behind.
The quality of your work is directly correlated to your success. Managing that quality should be a priority for your organization, one that will make every other aspect of your job more effective. Without a system and processes dedicated to meeting (or exceeding standards), you and your team can get stuck putting out fires rather than proactively delivering quality work.
What is Quality Management
Quality management (QM) is an established program that focuses on keeping quality standards for your services. It includes overseeing all tasks and processes within an organization to ensure consistent quality. Effective QM requires collecting real world data and responding to that data with any necessary corrective action.
Adding quality management to your existing list of tasks doesn't sound appealing. But when it is set up and organized, it makes more space for other tasks to be carried out, it can improve service delivery, empower employees to understand their role at work with clarity, and help you communicate the value of your work to stakeholders.
When putting in place a quality management program, there are four elements that must be addressed. Quality planning, quality assurance, quality control, and quality improvement are the pieces that make your quality management program a success.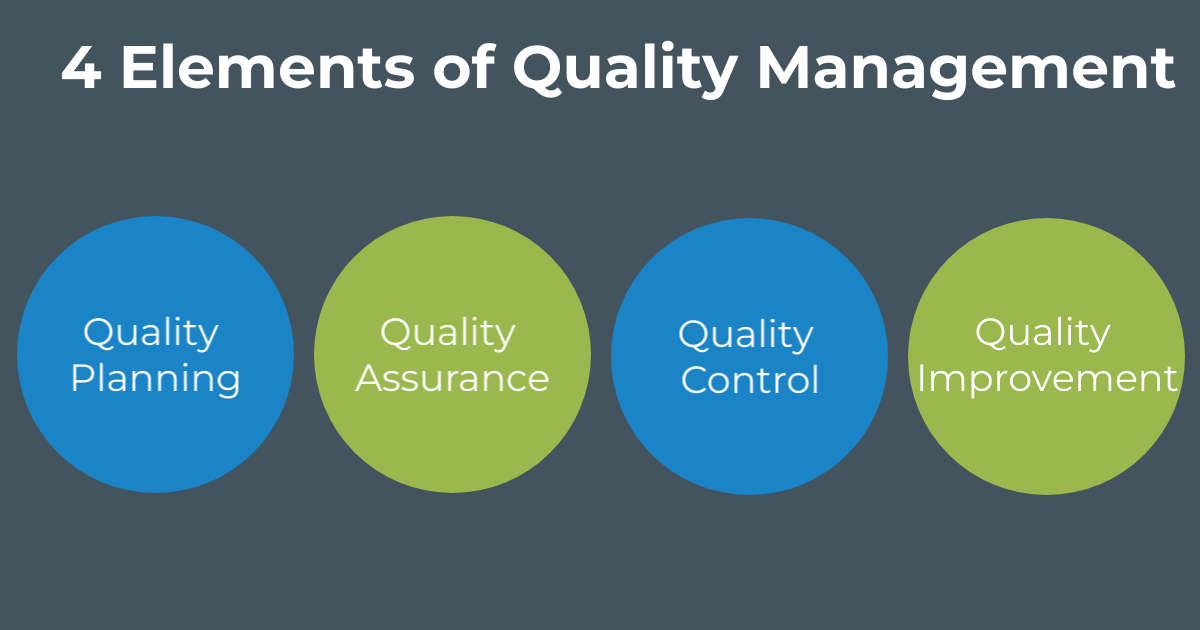 Quality Planning
Fail to plan, plan to fail. That's especially true when running an organization where things can change quickly (sound familiar?).
Quality planning is just what it sounds like. Find the relevant standards you want to watch and maintain and decide how to meet them.
Consider what is important to stakeholders and clients, and what tasks have fallen between the cracks in the past. Being proactive about what your organization would do at what standards in the ideal sense is going to give you the vision needed to put your plan into action.
Quality Assurance
However, your team currently fills out their inspection sheets, you need a way to confirm not only task completion but task quality. Remember, in today's climate, done is not enough. The task must be done well.
Quality assurance is the planned process put in place to ensure standards are being met. It should include who in the situation will handle the quality, how they are reporting, how it is documented and who they are reporting to.
Your inspections process is going to make or break your quality assurance. Use them to document your cleaning history and hold employees accountable for their work regularly.
Quality Control
Quality control is every facility manager's bread and butter. It's the ongoing effort to keep standards high. Even great systems can backslide to become mediocre without continued effort by managers and front-line employees.
You need to support your employees with clarity on what they should be doing (and why) as well as recognizing when they are doing well. A combination of high morale, employee recognition for reliable performance, high standards, and clarity on goals and intention can keep your quality control engine running smoothly.
Quality Improvement
Now is not the time to sit on the laurels of achievements past. If you aren't continuously improving, you won't continuously succeed. You want to include a process for addressing areas of opportunity in your quality management plan.
You cannot improve your quality if you don't know how you are doing now. The best way to empower your team to improve is to collect data that will show how they have performed over time. Don't just tell employees that they need to be better. Give them concrete goals in their areas of opportunity, and then reevaluate in the future to see how they did.
What is a Quality Management System?
The basic elements and goals of quality management are common ones. You have probably tried to address aspects of it in the past, or your existing process includes a focus on quality control or assurance.
A formal quality management system (QMS) is "a system that documents processes, procedures, and responsibilities for achieving quality policies and objectives."
Once you have addressed all four elements of quality management and named goals and objectives, it's time to create a system that will help you meet and exceed those goals.
"Creating high-quality process documentation is a crucial way of nurturing your relationship with partners, vendors, and clients. This documentation gives those outside your company clear expectations and a framework for what to expect as they work with you."
Just showing up and hoping for the best is a recipe for inefficient work and wasted time and resources. A QMS will help you get to where you are going, while clearly communicating standards and expectations to employees and stakeholders.
Quality Management Software
Putting a QMS into place doesn't require technology.
You certainly could document everything by hand, share the details in person, and file every work order, inspection report and email sent.
But that is going to take a lot of time and labor.
Quality management software handles a lot of the legwork for work orders, inspections, and surveys (feedback). With all data in one place, it is easier to find where areas of opportunity lie and figure out how best to tackle them.
Chad Mackley, the facilities operations manager at Wicomico County School District and CleanTelligent user noted:
"The data I get from CleanTelligent reports enables me to get my staff better tools, better equipment and better processes that make it easier for them to do their jobs."
Quality management software like CleanTelligent takes the guesswork out of meeting client expectations, evaluating employee performance, and making changes that improve the organization.
Learn how CleanTelligent Software has improved the quality management systems of cleaning organizations worldwide.
Technology Simplifies Quality Management
Embracing technology is going to help your organization keep up and improve. Our latest eBook, Boosting Your Quality, can help you recognize where you should be focusing your attention to see greater returns on investment whether that's time, resources, or operating costs.