If you plan on attending a trade show this year, here are five questions you will want to consider before you make the trip out.
For those of us in the janitorial and sanitation industry, summer means two things: The first is the constant preparation for the bacterial onslaught that happens as every autumn inevitably becomes "flu season." The second? Trade shows.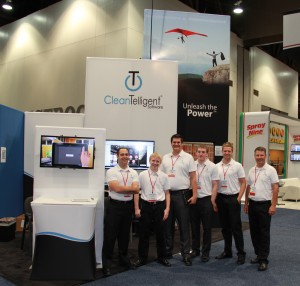 With every trade show comes a plethora of "fun-filled" activities like reserving booths, scheduling flights, submitting forms for booth layouts and electrical/Internet connectivity. As anyone who has attended or exhibited at a trade show can attest, however, it is all completely worth it if you do it right, which requires a good deal of trade show preparation.
I've taken the liberty of supplying a few trade show–related questions that have universal application to anyone in the jan/san industry who is considering attending or exhibiting at a trade show this fall. Courtesy of CleanTelligent's most experienced trade show exhibitors, here are their responses…
Q: For the janitorial industry, specifically, why are trade shows so important?
A: My experience is that many organizations within the janitorial industry benefit greatly from peer-to-peer education and networking. It's true that many of them compete directly, but by belonging to trade associations and participating in conferences that bring them together, they mutually benefit from the content presented during sessions and by speaking to others who are experiencing similar challenges. Staying on top of new technologies and better understanding developing regulations also greatly benefit building service contractors, as well as those providing in-house environmental services.
Q: What tools and processes do you use to decide whether a trade show is worth the cost of exhibiting?
A: This really comes down to what the purpose of the show really is. The majority of our trade shows are for sales, so we simply compare the costs of attending with the money earned in the six months that follow. There are some smaller shows, however, that aren't focused on sales. We instead look at the changes in usage for the companies that we see at those types of shows. These are more difficult to quantify and judge, but we are getting better at it. Thanks to our new "à la carte" pricing, we can even pull in some sales information from all of our shows (at least to some extent). We are getting better at this, but for now we just try to quantify the results of the show — whether it be in terms of sales, reactivated accounts, leads, letters of recommendation or just employee experience at the show.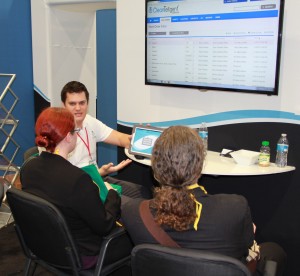 Q: Apart from increasing revenue, how has CleanTelligent benefited from exhibiting (not just attending) trade shows?
A: Branding is an important part of marketing. Going to trade shows helps get our brand out so people remember us. Also, building relationships and nurturing them is also a great benefit from exhibiting at trade shows.
Q: For many, the first thought of a trade show is to "make sales." Why, then, is it also vital to bring customer support representatives to your booth?
A: Meeting potential customers in person and closing new sales is a very important objective for most trade shows, but it's not the only one. We invite members of our Customer Support team because we often have opportunities to interface with current customers, and in-person training can often fill in gaps that virtual/remote training might not necessarily satisfy. We find that personally interacting with customers can help improve communication, particularly if the customers we meet are having trouble using our program to its full capacity. Additionally, our Customer Support Representatives can often help assure potential customers that the software will meet their specific needs by explaining aspects of the software that might exceed the typical technical level of a sales presentation.
Q: What do you do, especially in the weeks immediately following a trade show, to keep the momentum going for your company?
A: For marketing, after the show things just pick up again naturally as we seek to find ways to do even better the next year. For sales, it can be a little bit more difficult, because typically coming back from a show just means that you need to now enter several hundred leads and then work on contacting them again. To help keep this very important process from becoming a dreaded activity, I try to break up how the work is done. Instead of waiting to return from the show to enter all of the leads (in our CRM software), we enter them at the end of each day during the show. This does make for some rather long days, but the excitement of the show helps to make it better. Also, the notes that are made tend to be more accurate since they are still fresh in everyone's mind. This also helps because, when we return from the show, all of the sales employees can focus on closing sales and contacting new hot leads instead of losing time entering the leads gained from the week before.
This isn't a comprehensive list of tips that covers everything involved in the trade show process, but it should give you the answers you need to get moving on appropriately preparing for trade shows. Trade shows can be a very profitable and successful business venture — at CleanTelligent, for example, these shows have helped us connect with current customers and get many new leads.
After all of this, what really matters is you. What have you experienced at trade shows? What works for your business?