Your cleaning business' milestones and anniversaries are something to be celebrated, not dreaded. Check out a few ways you can make the most out of celebrations without breaking the bank or inducing a headache.
Your life is made up of milestones, triumphs and anniversaries. As part of your life, your business is not the exception. This month, CleanTelligent is celebrating its 15-year anniversary and in honor of reaching this milestone, we've compiled a list of ways your business can celebrate anniversaries, big or small.
Create an anniversary logo and tagline: This is a great way to visually mark your milestone. Attach this logo and tagline to your website, email signature, stationary and social media pages.

Doing this will help you get the word out about your anniversary, but it will also let the people you do business with celebrate with you. It also tells new clients that you are both experienced and here to stay.

Issue a press release: Use this piece to mark your company's history and future. Include links to your website and attach any relevant images. The goal is to drive local traffic back to your site, and who knows, you might get some local attention and new sales leads from it.

Send out an electronic anniversary announcement: Remember, you're in business because of your customers; you reached this milestone together. In your next email blast or newsletter, give your customers specific opportunities to join the celebration.

If you're holding an event, have them save the date and let them know when to expect a formal invitation. If you plan to hold a contest, tell them how to participate. You may also consider writing personalized thank you notes to your customers.

Offer limited-time promotions or products: Another way to thank your customers is to offer them an anniversary promotion or a special service package. The promotion's size or amount is up to you.

Some companies look for a way to play off their anniversary year. For example, if a company is celebrating its 10-year anniversary, they may offer 10 percent off the first month's cleaning for new customers or add 10 new services for current customers.

Hold a contest: The first step is to set your goal. Then you can decide how contestants will enter. The action can be easy, like "follow our LinkedIn page," or it could be a little more challenging, like "refer five friends." Think about the level of commitment you are asking participants for and then come up with a prize that is unique to your company and entices your audience to act.

Fill a time capsule: The items you select for the time capsule should reflect who your company is currently. Include pictures of your team and current equipment. Let current employees predict where the company and industry will be in the next 10 or 15 years. This could be videotaped or written down. It could also be fun to add some current company swag.

Create content: Reflect on all the ways your company has benefited the community. Have fun with these numbers! Some examples include:

The number of locations and clients you serve.
Look at your inventory history and determine some fun facts. For example, how many rolls of toilet paper has your company restocked?
Showcase your growth by the number of employees.
Add up your company's community service hours or donations.
Highlight your quick customer response time.

There are a lot of different ways to share this content. You could expand on these ideas and turn this into a series of social media posts, a visual timeline showcasing your growth, or an infographic.

Celebrate with a party! Reflect on your accomplishments with the people who made it happen. At your event, recognize influential people, past and present, who have contributed to your success. Dedicate a portion of the event to the future. The people you invited are going to help you shape and reach future milestones.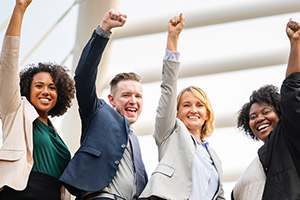 Celebrating your cleaning business' anniversary doesn't need to be overwhelming or expensive. Take this chance to get creative and to share your company's story.
Turn this celebratory year into a special opportunity to recognize your company's success with the people who helped you get there. Then use the momentum and enthusiasm to carry your company into its next phase.
CleanTelligent Software offers many solutions to help cleaning businesses be successful, such as mobile inspections, work orders and job scheduling. Visit our solutions page to learn more about our cleaning business software!