Here are more tips from Joel Craddock, President of Doc's Facilities Solutions, on how your cleaning company can move ahead of competitors.
If you can put the following suggestions to work for you (and the suggestions from the previous post) and use software for your cleaning business, the majority of your competition will eat your dust.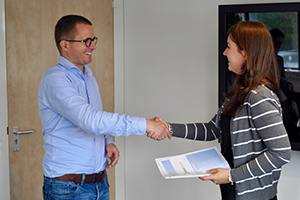 Master Customer Retention
It starts before the sale and continues afterward.
Most cleaning businesses reach customers via the salesperson who's hired to contact them, gather the facts and woo them. Once the contract is signed, the salesperson is set off to hunt again and that new customer is left to forge a new relationship with the cleaning staff. Change that now!
Your company has already invested time and money in that salesperson's relationship with your customer. I suggest incentivizing them with residual income on accounts. Use a system to stay ahead and stay in touch.
Let Them See You
Performing monthly or quarterly site inspections speaks volumes. Not only are you gathering information on how your cleaning service is performing, but you have the opportunity to interact with your customer.
Scheduling these inspections and taking time to interact with your customer face-to-face are powerful steps. Using a review system like CleanTelligent will help you analyze and use that information.
Put Yourself in the Client's Place
We often hear this as a metaphor, meaning, "Try to think as your client does." While that is valid, it can also be exhausting. What I mean is to literally put yourself there!
If your customer sits at a desk most of the day, get behind their desk. If you don't feel comfortable sitting in that chair, squat down so your eyes, ears and nose are where theirs are. What do you see, hear and smell? If your customer is tall and your cleaners are short, get a step stool and have them get up on it. What do they see?
Most good, front-line cleaners enter a room and work through it as efficiently as possible in order to complete their tasks. As an owner keeping an eye on profitability, that's important. But from that perspective, you and your cleaners will never experience what your customer does. Change your approach and you'll be well ahead of most of your competitors.
Stay in Touch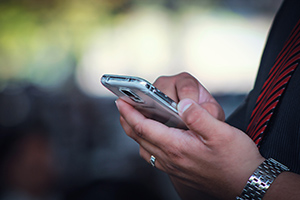 Scheduling consistent calls and emails to your customer helps them stay informed of your efforts.
If you want to really produce a smile and create a positive impression that lasts, schedule sending cards. Designate one of your employees or use a service to manage and schedule regular communication for birthdays, service anniversaries and other relevant events. This step alone, performed consistently, can put you in the lead.
Finally…
Take a breath. The steps shared here have taken decades of practice to become part of a weekly routine. If you are able to master them in less time, congratulations! When you have a week (or month) where you "fall down" and fail to practice them, take a breath. Allow your network of business professionals to help you refocus. Then get up and start again.
The chaos that wants to tear your business down is all around you. But when you choose to master it with simple actions, practiced every day, you will already be a great distance beyond your competition.
Joel "Doc" Craddock has over 30 years of experience in the commercial facilities maintenance industry. Joel has held numerous leadership positions and has a strong passion to improve the quality and health impact of professional cleaning services. Joel can be reached at joel@docsfs.com.
Be more competitive with CleanTelligent Software! We offer many solutions for cleaning business owners, such as mobile Busines Intelligence (BI). Learn about our cleaning company software on our solutions page!