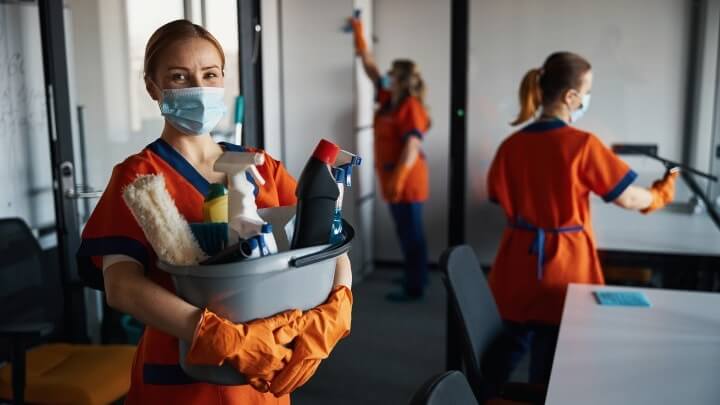 Are you looking for new ways to motivate, teach, and train your cleaning staff? Read our 10 simple and practical tips to set your new cleaners up for success.
Fostering a successful cleaning team starts with effective employee training. This process includes an investment of time, energy, and money.
Not all employee training programs are built the same. If you have a weak training program, you will build a weak team which results in higher employee turnover.
Use the following tips to craft a successful training and on-boarding experience for your new employees.
Here Are 10 Simple Tips to Help You Train Your Newest Cleaning Staff Recruits
1) Cleaning Courses
You can teach your new cleaning employees the skills and knowledge necessary through courses. This provides a methodical way to relay useful information to new hires while they are receiving hands on training in the field.
With all of the resources available through the internet, you can find an online cleaning course that is most catered to your team's needs. For example, CMI provides two Custodial Technician courses; an introductory course and an advanced course.
These types of courses will train your cleaning staff on the techniques and best practices, up-to-date cleaning standards, and more.
If you cannot find a third-party course that meets your needs, you can always put an archive of training videos together yourself.
Either way, your new hire will appreciate having this educational tool to learn from.
2) Appoint Mentors
Your current cleaning staff can be of great use in helping your new employee adjust to the company culture and to their new job responsibilities.
Identify your standout employees, and let them know that the knowledge and experience they have can contribute towards building up your new employee.
Giving your seasoned employees the opportunity to transition into a mentor role will make them feel more appreciated, and your new cleaning recruit will have a new perspective on their work.
Providing your new employee with a mentor can help expedite the training, enhance team comradery, and build trust within your organization.
3) What's the Bigger Picture?
Front line cleaners' efforts go beyond leaving a facility physically appealing.
A new cleaner needs to understand the true impact they can make with their work.
For example, quality service delivery is proven to keep its patrons safe from illness. Here is a graphic from ISSA, which shows the value of clean for educational facilities alone.
Throughout your employee's training, make sure to communicate the purpose behind each task. Building the "Why" behind their work, will help them become diligent and attentive to what they are doing.
4) Goal Setting and Planning
Setting the expectation early on for what you want your new cleaner to achieve after training is important.
This is an overlooked part of the employee training process.
Sit down with your new hire, set some goals, and then make a roadmap of how you guys will collaboratively hit those goals.
What do you want your new cleaner to learn or accomplish in the first month on the job? How about two months? Three months?
Do you have training and onboarding procedures to accomplish those goals?
This will give your new cleaner direction, and with each milestone or goal you accomplish, comes a great sense of pride and commitment.
5) Use Checklists
There are so many things on a new hire's mind. I am sure you have once felt the feeling of being overwhelmed, stressed, or even slightly confused when starting a new job.
Providing checklists is a simple way to help your new cleaner understand what their tasks are.
Instead of them worrying about what needs to be done, your team can now put their energy in providing quality work.
6) Help Them Understand the Company Culture
You want new cleaners to understand the ins and outs of janitorial, sanitation, and maintenance work. After all, that will be a big part of their job.
But you also want them to understand the company culture.
If your new employee understands your team's mission, values, and attitudes, then they will have an easier time understanding their role.
When your new employee really resonates with the culture; they will feel a greater sense of joy in their work.
7) Incentivize their Progress
For each milestone that your new employee surpasses, reward them. It's that simple.
If they have been working hard for a month, then take them out to lunch, buy them a coffee, or even buy them their favorite snack from the vending machine.
These incentives don't have to be big or pre-planned.
Something small will keep them motivated throughout the grueling training process.
8) Hold Them Accountable, but DON'T Micro-Manage
There is a fine line between holding your staff accountable and looking over their shoulder every second of the day to pre-maturely correct their work.
After a little bit of training, give them a task to do independently.
This doesn't have to be a big task, but something that is manageable for them to do on their own.
When this task is completed, if their quality of work does not meet your standards, make sure to correct their work by being informative, supportive, and understanding.
From this point on, they know you will keep them accountable for the work they do. This will set the standard for your work relationship going forward.
If they do a great job completing the task - Give them their props!
It's a win-win situation.
9) Show Your Appreciation
Starting a new job anywhere is tough. This is especially the case in the Jan/San industry.
During the training and on-boarding process, make sure to show your appreciation for their hard work and commitment to learning their new role. Cleaning tasks may take some time to learn and accomplish, which is why it is important to keep them motivated through positive reinforcement.
This article may come in handy if you are looking for unique ways to thank your cleaner.
10) Let Numbers Do the Talking
Make your expectations for your new employees as clear as possible without scaring them away. What is a great way to shed light on what you expect from them? Use numbers.
Utilizing numbers and statistics are a simple way to gauge your new employee's performance. Breakdown your work order response times, inspections scores, customer surveys, and any other key performance indicators that matter to your cleaning team.
Making new employees aware of your team's current service delivery performance data will help them paint a picture in their mind of what type of work is required of them.
Numbers make it clear.
Moving Forward
Guide your new employees to transition into reliable and loyal cleaning professionals by utilizing these 10 tips early on in their new hire trainings.
Janitorial management software, like CleanTelligent, can help you lower employee retention and improve service delivery.
Click here to listen to Brandy Emmons-Powell, Director of Quality Development, give her testimonial on how CleanTelligent Software enhances employee training programs at Didlake Inc.